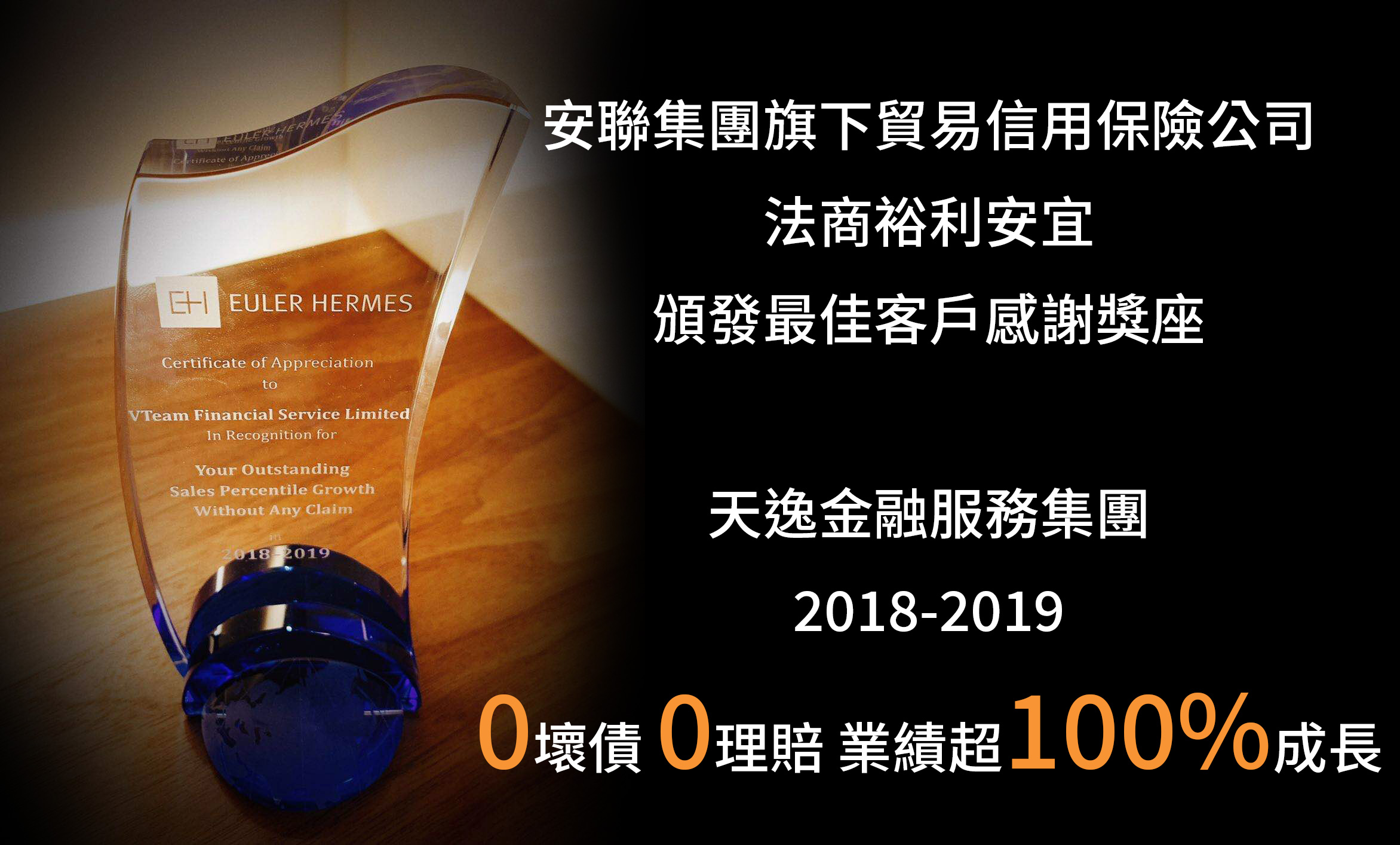 VTeam Financial Services Group (hereinafter referred to as VTeam Group) has been awarded the only one certification of appreciation in Asia, which issued by French Euler Hermes Trade Credit Insurance Company of Allianz Group, the world's largest insurance group, for three consecutive years since 2017. The certification definitely affirms that the international receivables insured had not applied for any claim record at all and the sales performance had still increased by more than 100% under the strict selection of VTeam Group. Not only VTeam Group shows its expertise in risk control capabilities, but also takes consideration of the sales growth with Group. The outstanding performance is worth to be praised indeed
Euler Hermes is a company of the Allianz Group, which is a leader in insurance industry related trade credit matters globally with more than 100 years of experience. Euler Hermes provides cash and trade receivables management services for B2B customers, also is an expert with the field of guarantee letters, guarantee and merchant account management recognized by public.
VTeam was founded in 1988, and focus on the field of supply chain finance and A/R factoring. In Finance technology, VTeam Group has served more than 100 banks and finance institutions, it is a leading brand with the highest market share among Great China, Taiwan and Hong Kong. In Finance Service, VTeam Group also provides AR factoring in domestic and international countries, and supply chain finance service for huge enterprise customers. It has nearly 40 service bases and also has several international patents for accounts receivable risk management, besides, it is a member of the International Factoring Association (FCI). VTeam integrates financial technology and financial services by itself with the models of in line and off line to provides a full range of FinTech services for supply chain finance professional.